When we decide to buy a new PC, the first thing we consider is the system's performance. PC's performance depends on many factors like Storage Capacity, RAM, Processor, etc. Nowadays many users are facing an issue that is the slow performance of the PC. There are many reasons that make a PC a little lazy to work. Some of them are given below:
Running out of RAM (Random Access Memory).
Running out of disc drive space (HDD or SSD).
Unnecessary background programs.
Too many start-up programs.
Malware or viruses
If you feel like your PC is slower, before you thinking of buying a new PC try the tips shared in this post and which will help you to improve the overall performance of your PC especially your Windows PC.
Restart Your Computer
This is one of the simplest but effective methods we can do if your PC looks slow. Restarting is the best troubleshooting step because it fixes many problems in your PC. Let's see how restarting a PC fix problem. When you restart a PC all it's logic set to reset mode. h means all PC That means component receives a reset command. Also, all background apps will close and your PC will set to a new state.
To restart your PC;  go to start menu -> Click on the power button -> click on Restart.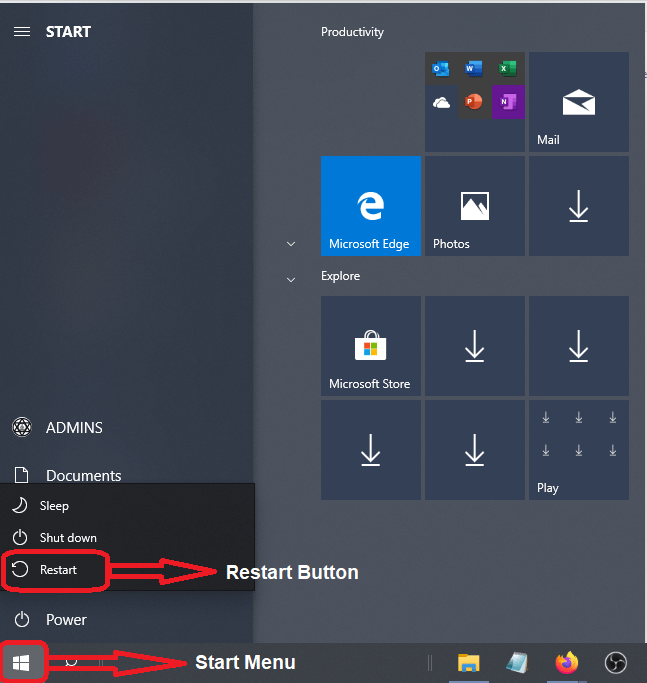 Clean Your Hard Drive
Low disk space is one of the major reasons that slow your PC. Your PC needs a certain amount of disk space to work efficiently. At least your PC needs 500MB of Disk space. Windows 10 have built-in tools to clean up your Hard Drive to remove unwanted files.
The following methods will clean up your Hard Drive that will increase your PC's performance.
Empty Recycle Bin: There is a misconception that cleaning the recycle bin would give you an ultra-performance boost to your PC. That is not true. As I said earlier if you have a disk space of 500 MB your PC will work as normal. But cleaning up of recycle bin is a good practice because it will have a little impact on your PC's performance. To clean the files in recycle bin right click on the recycle bin icon from the menu click on 'Empty Recycle Bin'.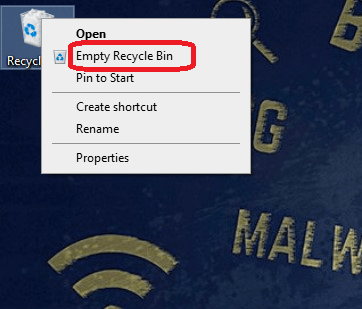 Remove unwanted programs: There may be programs that you may have installed accidentally. The more programs you installed on your PC and the more runs in the background, the more space and resources will be used. Remove unwanted programs will free up disk space and reduce resource consumption.
To uninstall a program, go to -> Control Panel -> click on uninstall a program -> From the list of programs Right click on any unnecessary program and uninstall it.
Delete temporary files: Operating system and programs store files on your PC to store information temporarily like also there may be other temporary files like leftover files, System logs, error reporting, etc. Removing this temporary file will give your PC some space and which will improve your PC's performance. Follow the instructions given below to delete temporary files.
Go to settings -> Storage -> Click on 'Temporary File' -> Click on 'Remove Files' button.
Also, you can use the 'Storage Sense' to automatically remove the temporary files. To do this, go to Setting -> System -> Storage -> Turn on the 'Storage Sense'
Scan for Malwares and Viruses
You should use an Antivirus program to scan for malwares and viruses. Because a less secured PC is vulnerable to virus attacks and which will affect your PC's overall performance.
Check Startup Apps
There maybe startup programs that make your system lazy to wake up when you turn it on. You can disable startup apps from the task manager. Press alt+cntrl+delete to open task manager and from the window click on 'startup' tab and from the list of apps disable the apps that you don't need to run at the time of log in.
Upgrade your RAM
RAM (Random Access Memory) plays a major role when it comes to system performance. The more memory capacity a RAM have the more efficiently the processor can work on executing commands and store temporary information that currently using. You can add RAM to improve your PC's performance. But before buy a RAM you should check whether you have slots available to add RAM. To find out that open your task manager and click on performance tab there you can see the memory slots in use.
Use an SSD (Solid Static Drive)
Apart from HDD (Hard Disk Drive), SSD (Solid State drive) is faster when it comes to performance. HDD takes average of 5,000 microseconds to access the data but SSD takes only around 35 to 100 microseconds for that. Therefore, using SSD will improve your PC's performance. But there are some drawbacks when using SSD like price per MB is higher than HDD.
Change Power Plan
Believe it or not, by changing the power plan you can improve your PC's performance.
For that go to Control panel -> Hardware and sound -> Power Options. Click on 'Show additional plan' from there you can select 'high performance' it will speed up your system performance.
There is one more hidden power plan in windows 10. Follow the instructions below to activate the hidden power plan:
For that you have to open the Windows PowerShell (admin) to open this, right click on the windows icon in the menu you will able to see the option there. When you click on, it will open up a command prompt enter the following in the command prompt.
powercfg –duplicatescheme e9a43b02-d5df-ff8d-aa00-03f14749eb61
Hit enter you'll see some process going on when it finishes go back to the power plan option you can see new option named 'Ultimate Performance'.
Remove Bloatware
Bloatware is referring to a preinstalled software on your device by the manufacturer. Sometimes we don't really need all this software. Therefore, removing it will improve the speed of your PC
By using the following method, you can remove bloatware and speed up your PC.
Open Windows PowerShell (admin) once again and enter the following:
iex ((New-Object System.Net.WebClient).DownloadString('https://git.io/debloat'))
Hit enter, from the opening window, click on 'Remove all bloatware'. Wait until the process completes. You can find the command in GitHub
There are other methods suggest by Microsoft that also help you to improve your system performance. I will share some of that.
Update your Windows and Drivers to it latest versions
Make sure that you have the latest version of Windows and Drivers in your PC. This will ensure more security and improve system performance.
To do this go to settings -> Update & Security -> Windows Update -> Check for Update 
Use RedyBoost for better performance
RedyBoost is a feature that helps you to use a removable drive as a RAM. But make sure that the drive you are going to use have at least 500 MB of space and higher data transfer rate. Then follow the instructions below.
Connect the removable drive to your PC.
Go to file explorer and click on properties.
Click on ReadyBoost tab and select use this device. You can see that windows calculate how much memory space needs to use. Click ok to finish.
You can see a ReadyBoost.sfcahe file when you open the contents in the removable drive.